Registration for the FI domain
Through the hosting service you can get your fi-domain immediately registered. Please check if the domain is free and make an order. In addition to FI domain registration, you can subscribe to a web hosting package or domain park. FI domains are managed by the Finnish Communications Regulatory Authority. After 5.9.2016, fi-domain names could no longer be filed directly through FICORA, but the registrations must be handled directly through intermediaries. Nowadays, foreigners can also register for themselves a fi-domain and no restrictions on the first and last names are anymore. However, a domain name based on another protected name or trademark may not be registered.
What is a protected name or trademark?
Under the Information Society Code, protected names and trademarks include:
names or trademarks that have been entered into the trade register or into the registers of trademarks, associations, foundations, or political parties in Finland
names of public bodies, unincorporated state enterprises, independent public corporations, public associations, or diplomatic missions of a foreign State or their bodies
Standardized Names, Secondary Symbols or Trademarks for Trademark and Trademark Law
EU trademarks in the EUIPO trademark register.
How to check whether a name or trademark is protected
These can be checked on the following links: Finnish Patent and Registration Office (business information system, register of associations, register of trademarks) and the EU trademark register of the European Union Intellectual Property Office (EUIPO).
What does a domain's legality mean?
The domain name does not get marked at the time of subscription
Respond to another protected name or tag unless the domain user can provide an acceptable ground for domain registration
resembles another protected name or character if a domain name is registered for obvious use or damage
FI domain pricing and validity periods
FI domains can be registered for 1-5 years at a time. The name servers for the domain will come with hosting package or domainpark, but also external name servers can be used. Domain can also be registered without the name servers waiting for later use.
Tariff:
1 year – 12,10 euros (exc. vat)
2 years – 24,20 euros (exc. vat)
3 years – 36,29 euros (exc. vat)
4 years – 48,39 euros (exc. vat)
5 years – 60,48 euros (exc. vat)
International chraracters with fi-domains
Internationalized Domain Names (IDNs) have been available since 2005. Register your fi domain name here.
A domain name with a native language characters and a corresponding domain without these native language characters, such as ääkkönen.fi and aakkonen.fi, are different domain names and must be registered separately.
What fi-domain can be?
The length can be 2-63 characters.
Permissible characters include letters a-o, numbers 0-9 and dashes (-), as well as characters in the Sami language spoken in Finland.
The dash can not be the first and not the last character of the domain.
The third and fourth characters may not have both lines.
The domain name should not be based on another protected name or trademark. The registers can be reviewed by here.
Intermediary Switch Key
The agent's change key, that is, the authorization key, may transfer the domain from one broker to another. If you move the domain to us, ask the order form for the intermediary switch key. If you are moving to another broker, you can find the broker's alternate key in our client page under My Domains.
Fi domain termination
You can also terminate your domain before expiration of validity. If you want to cancel your domain, please send us a support request. You can also turn off automatic domain renewal on a client page so that your domain will automatically expire.
FI-Domain registrar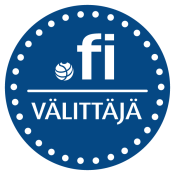 We are an fi-domain registrar that offers easy registration and management. We have automated domain-related processing and you can easily manage your fi-domains through our client area. If you do not yet have a domain registrar for your .fi domain name, you can get a registrar transfer key directly from Ficora and then you order transfer of the domain name through our order page. You can choose whether to transfer a domain or also order other services.
On our site, you can do the following for a domain:
Edit Name Servers
Edit glue records of name servers
Changes contact details
Get registrar transfer key
Renew or cancel domain renewal